In General, does DBT Work?
Yes.
Okay, I guess I can go into more detail. As either a potential new client or a current client doing some research, here's the good news: DBT is one of the most well studied psychotherapies. What this means for you, then, is that there is actual research, actual evidence, that DBT is an effective form of treatment for a variety of concerns.
Over 50 RCTs (randomized control trials) have been conducted with a wide range of:
Clinical populations (e.g. BPD, eating disorders, complex PTSD)

Age groups (children through older adults)

Treatment settings (e.g. university and community clinics, hospitals)

Levels of care (e.g. outpatient, residential, inpatient)

Providers (e.g. mental health professionals, teachers, self-help)
DBT has also been show to have a strong cross-cultural base meaning that randomized and non-randomized trials conducted outside of the US support the effectiveness of DBT cross-culturally.
All of this to say that DBT has been show to be effective in reducing problematic behaviors and increasing effective behaviors. Some of the problem behaviors that DBT is effective in decreasing: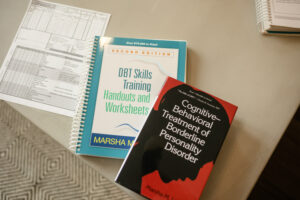 Suicidal behavior

Non-suicidal self-injury

Depression

Hopelessness

Anger

Eating disorder behaviors

Substance use problems

Impulsivity
And the cool part of DBT is that it doesn't just decrease problematic behaviors, it'll also help you increase:
General adjustment

Social adjustment

Treatment retention

Positive self-esteem
So… what does this all mean?
Great question, I'm so glad you asked! In several research studies, DBT has been shown to be effective. Now what that means for you, is that when DBT is practiced adherently (which is what we do at CCDBT), then you have an even greater chance of building your life worth living, which is DBT's fancy way of saying that you'll reach your goals. So those things that are prompting you to come to therapy (anxiety, depression, BPD, addiction, etc.) DBT can help you with! And it's been shown to work! Which is great, because we know that DBT is a commitment of your time and finances. At the Cincinnati Center for DBT, we want you to be successful, so successful, in fact, that you can stop coming to therapy because you've reached your goals! That's what DBT's all about.
What do you mean 'adherently'?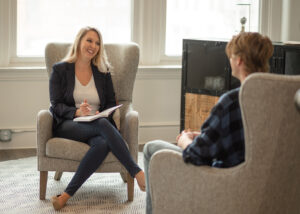 Another great question! When most clinicians claim to do DBT therapy, what they really mean is they do DBT informed therapy, which is different. While DBT informed care can still be effective in some regards, DBT is most effective when it's done as the founder, Marsha Linehan, intended it. At the Cincinnati Center for DBT, the founder and CEO, Dr. Nikki Winchester, is one of six clinicians in Ohio certified by the DBT-Linehan Board of Certification and is one of 350 clinicians certified worldwide. Dr. Winchester ensures that the services provided at CCDBT are done as they are meant to which enhances the client experience. You can trust that the services you receive at CCDBT are being performed by clinicians that are undergoing or have undergone intensive training and supervision to provide you with the most effective treatments.
About the Author
Maria Mangione (she/her), M.A., LPCC is a licensed clinical counselor that specializes in dialectical behavior therapy. Maria works to help people develop the tools they need to develop trust in themselves and build their life worth living. Maria believes in having meaningful connections with her clients and believes that therapy and healing can be fun. Click Here to learn more about Maria's experience and therapeutic style.