Dialectical behavioral therapy (DBT) is one of the relatively few evidence-based treatments that has been found to be effective at reducing suicidal ideation and behaviors. An added benefit is that the participation in DBT is associated with reducing the use of costly crisis services such as psychiatric hospitalizations and emergency room visits. In DBT, psychiatric hospitalization is avoided whenever possible. Yes, even when a client is experiencing a suicidal crisis! This is done as there is no evidence suggesting that acute inpatient hospitalization is effective at either reducing suicidal risk or treating suicidal thoughts and behaviors. In fact, there is substantial data indicating that people recently discharged from an inpatient psychiatric hospital are at an elevated risk for suicide (Chung, et al., 2017; Forte, et al., 2019).
DBT assumes that people cannot have a reasonable quality of life if they are living in a revolving door of hospital admissions. The goal is to help clients learn to reduce suicide risk while remaining in their natural environment. So, you may be thinking well, what does DBT say to do then? Great question! The answer is to target suicide directly. Said another way, we take the bull by the horns!
DBT directly assess the factors that cause and maintain suicidal thoughts and behaviors. This is very different from other therapy approaches as other models attempt to reduce suicide risk by targeting underlying mental health conditions such as depression. Additionally, thorough assessment of suicide risk is done when first meeting the client. Therapists are assessing for both indicators of suicide and protective factors that are unique to that client. Suicide risk is also routinely monitored throughout the treatment. Clients are asked to rate current urges for suicide at the beginning of therapy sessions. Suicidal urges and acts are also tracked on the client's diary card. This allows for the therapist to immediately intervene when suicide risk is high and to assess factors contributing to the increase and decrease of suicidal urges throughout treatment.
DBT therapists provide skills-based solutions to reduce suicide risk. DBT teaches clients numerous skills to increase their ability to live mindfully, regulate their emotions, tolerate distress in life, and improve their relationships. These skills are taught both in weekly skills group and within individual therapy sessions. These skills help clients prevent suicidal risk from increasing and to avoid acting on suicidal urges when they do occur.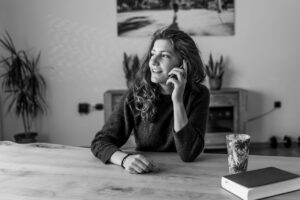 DBT therapist are available between sessions. The ability to call for in-the-moment phone coaching is a vital part of DBT. These calls are designed to be brief and are focused on helping clients identify and use skills to manage current and ongoing problems in their lives.
DBT identifies and works toward long-term solutions to suicide. DBT's ultimate goal is to help clients build their life worth living. In order to do this, the client needs to no longer see suicide as an option to solving their problems. As each client is different, it is critical that therapists understand what needs to be different in their client's life in order for them to want to be alive. Once this identified, therapists and clients work together to identify and enact solutions that reduce the client's suicide risk in the long run.
References
Chung, D. T., Ryan, C. J., Hadzi-Pavlovic, D., Singh, S. P., Stanton, C., & Large, M. M. (2017). Suicide rates after discharge from psychiatric facilities. JAMA Psychiatry, 74(7), 694–702. https://doi.org/10.1001/jamapsychiatry.2017.1044
Forte, A., Buscajoni, A., Fiorillo, A., Pompili, M., & Baldessarini, R. J. (2019). Suicidal risk following hospital discharge: A Review. Harvard Review of Psychiatry, 27(4), 209–216. https://doi.org/10.1097/hrp.0000000000000222
About the Author
Desirae Allen (she/her), Psy.D., is a licensed clinical psychologist that specializes in dialectical behavior therapy. Desirae works with teens and adults, creating a compassionate and judgement-free space, where clients can find wellness and recovery. Desirae believes that DBT can make a long-term difference in people's lives, and she strives to work collaboratively with her clients to provide adherent DBT. Click Here to learn more about Desirae's experience and therapeutic style.
Important Note
If you are feeling suicidal, or you are in crisis, please call 988 (the suicide prevention hotline) for assistance.
Additional Resources
Suicide Prevention by the American Psychological Association: Click Here
DBT's Approach to Treating People at High Risk for Suicide: Click Here